Wow. I really can't believe the way the concept of a "chaffle" is currently blowing up, so I wanted to show you how to make a chaffle so you'd be on the cutting edge of the latest food trend.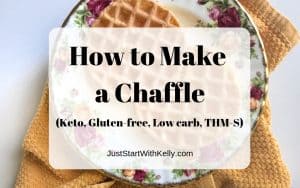 Or, maybe you're reading this some time when chaffles have been around for a while. Just know that, this is the beginning stages of the trend (I did not invent this, but want to share it with you), and it is a HOT one!
Now, while I am not keto, I do love gluten-free recipes and loosely follow the Trim Healthy Mama eating method; chaffles are a THM-S item.
Please note that this post may contain affiliate links, which means that if you make a purchase, I may receive a small commission. You can read my disclosure policy at the bottom of this page. Thanks! Now let's get on with it.
Once you've started making chaffles, don't miss my post with over 75 tips on chaffle-making and different recipes you can make.
What is a Chaffle?
I'm not sure exactly why it's called this, but it's basically a combination of a whisked egg and cheese.  So, I suppose the word comes from cheese + waffle. That's it.
(Which can be a misnomer a bit, because, in my view, the egg is the important component, cheese is a bit of a helper. But, I didn't name it.)
A chaffle is called this because the original design has it being made in a waffle maker, typically a mini waffle maker, like this one. It doesn't have to be made in a mini, though.
If you have a bigger family, chaffles can be made in a regular waffle maker, I have this regular-sized one that we got as a wedding present and it has held up well over our 19+ years of marriage so far. Granted I've never been so enticed to make as many waffles.
People often find that their regular sized waffle makers require more of the recipe mix, or that the cheese or egg stick to the maker itself, so they like the simplicity and size of the mini.
And it is small! I knew it said mini, but it's really small and cute, not much bigger than my hand.
Basic Chaffle Recipe
There are lots of variations, with lots of tips and tricks for chaffle-making and waffle maker maintenance here.
To make a basic chaffle, you will need two ingredients you already have in your kitchen:
• 1 egg
• 1/2 cup of cheese, cheddar or mozzarella (optional)
That's it. The cheese will help the chaffle have less eggy flavor. Mozzarella cheese will have less of a cheesy flavor.
How to Make a Chaffle
1. Preheat your waffle maker. This is the mini I use.
2. Put your egg into a bowl
3. Add 1/2 cup of cheese, cheddar or mozzarella
4. Whisk egg and cheese combo. The more you whisk, the more mix you may have.
5. Divide recipe in half (or only pour half) and pour onto hot waffle maker.
6. Close waffle maker lid and let cook for 4-5 minutes. I do like to flip mine because the bottom cooks faster, but it is not necessary.
This will make 2-3 chaffles. If you use a large egg, you will probably get 3. I use a regular sized egg and get 2, which is perfect for just me.
And voilà! A chaffle!
Chaffle-Making Tips
1. You can put a little bit of cheese directly on the waffle maker, people say that it helps it release (though I have had no problem), and also gives direct cheese flavor, which is great if you want to taste cheese.
2. Honestly, I find that the cheese is optional. I would usually rather taste my cheese as part of the sandwich, so I still whisk my egg like normal (without cheese) and then pour half into the chaffle maker.
Made only with one regular-sized egg, it will puff up.
Use a large egg for fuller results.
Although it doesn't cover all the "hills" in the waffle maker, it puffs up well enough to not have big holes. Then I add the cheese inside the sandwich, like where I made a hot ham and melty cheese chaffle sandwich by toasting it in the cast iron skillet! Yum!
3. Mozzarella cheese will give your chaffle a less cheesy flavor, but will also help with the eggy taste (which, I personally don't find overpowering once I have all the other toppings/fillings.) So, if you definitely want cheese in the recipe but want a sweet chaffle, mozzarella is your better choice.
4. There are many variations, some that are better for sweet chaffles, or less cheesy tasting (which include almond flour). There are so many, in fact, that I plan to do a separate post about all the wonderful variations and recipes you can make with this creation. You can find some with other tips here.The possibilities are endless!
Here's my turkey sandwich (yes, it does have a bottom chaffle but I didn't get that captured.)
And that's the basic info on making a chaffle. Have you tried one yet? What did you think? Do you make it the same way as above or do you have a favorite variation? I love to hear from you, let me know in the comments!
As always, thanks for reading, and God bless!
Pin for later:
Other Related Posts