If you've seen my prior posts about the keto chaffle waffle bread, you know I am loving this quick, easy, low carb, dairy free, gluten free bread substitute.
Which is basically a mini-waffle looking item which serves well as a sandwich bread.
However, this recipe is a bit different, and doesn't contain cheese (or dairy.)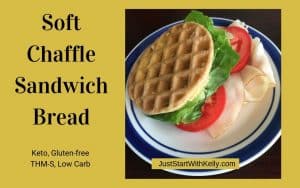 The prior recipes produce a crispy chaffle, but this one will produce a softer version more similar to what you would use for sandwiches.
First, I will give you some tips about this particular variation; if you just want the recipe, feel free to scroll closer to the bottom!You can see both of those prior posts about the basic recipe here and some tips & tricks I've shared here.
Basic Chaffle Sandwich Bread Recipe: Tips
Now, you already know about the two ingredient chaffle. And the word generally comes from the inclusion of cheese. Which I don't even really use in mine, but since mayoffle sounds odd, we're going to use the term "chaffle" as it seems to be a catch-all for anything made in the mini-waffle maker.
Since they're relatively inexpensive, I recommend getting two if you're an impatient cook like me.
Yes, this recipe does have mayo. No, don't freak out if you don't like mayo, you won't taste it, plus, it really helps the texture of the bread. I'll talk about recipe variations and substitutions below the recipe if you absolutely can't stand it..
Does It Taste Like Sandwich or Wonder Bread?
I don't know what the Wonder Bread tastes like, but I know this — this recipe has a very non-eggy, soft taste and texture, like a soft bread you would use for sandwiches.
And if you can tell in this picture (although I used it as a vehicle for getting mashed avocado into my mouth) — the chaffle itself has the soft look and feel of a fluffy yeast doughnut – with no yeast! #drooling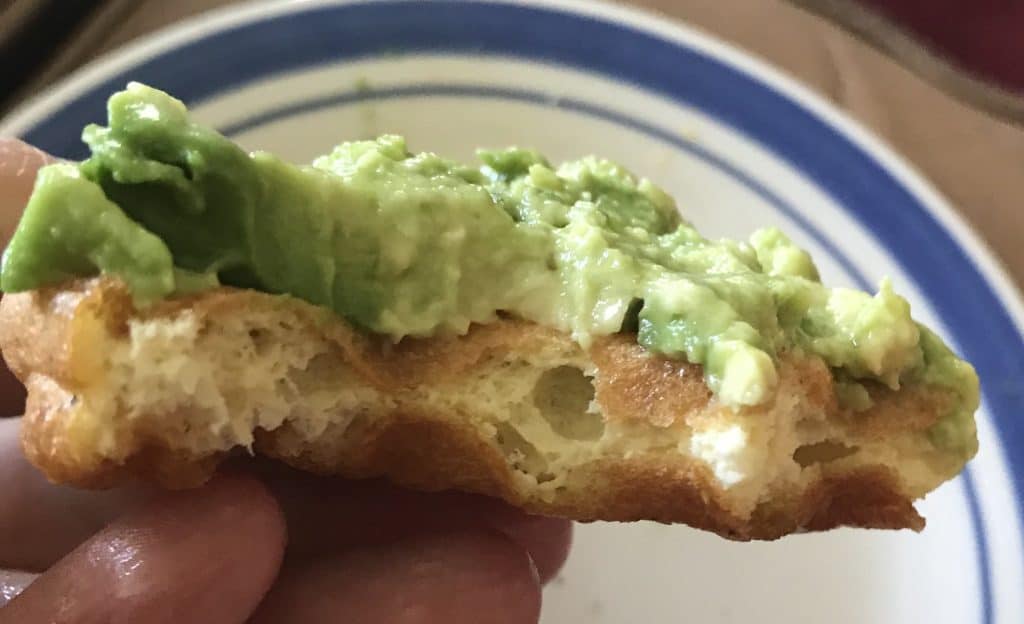 I am pretty much a slave to Krispy Kreme chocolate covered donuts, so this makes me have alllll kinds of ideas… 🤔💭 I talk a little more about those below.
Can This Recipe Be Altered for Other Tastes or Flavors?
I'm so glad you asked. Yes, it can.
I have yet to buy any, but it has been recommended in a Facebook group to add sourdough flavoring or dare I say, funnel cake flavor! 😱
Or maybe apple pie flavor sounds as tempting to you as it does to me?! And with some stewed apples on top (not necessarily keto) with a sweetener like monk fruit or stevia.. Good thing these are low carb because I may be devouring many of them!
How to Reduce the Eggy Flavor of Waffle Bread
I haven't really had a problem with chaffles tasting too eggy (I mean, they are made with eggs, but the taste is negligible), but if you're super sensitive to that flavor, you can always try egg whites.
Most grocery stores sell them and you can get this kind delivered the same day in some areas. Just consult the side of the egg white box for the amount equivalent to the one egg in the recipe.
Now let's get to that recipe! I can't wait to share it because it is game-changing!
Basic Soft Sandwich Bread Chaffle Recipe
Ingredients:
1 egg (regular sized is fine, I used a jumbo and it was a little too much)
1 Tbsp Almond flour (I like this brand, but this other brand has also worked well and is a little cheaper)
1 Tbsp mayo (see below for alternatives)
1/8 tsp aluminum free baking powder like this one
1 tsp water
Instructions:
Crack egg into a bowl, and beat it with a fork. Or put cracked egg contents into blender cup.
Mix in other almond flour, mayo, baking powder, and water. You can do this briskly beating with a fork, or you can put all ingredients into a blender cup and blend together.
Pour half of receipe into mini-waffle maker.
Let cook approx 5 minutes, then remove from waffle maker. Repeat for second chaffle.
Let cool before using.
Chaffle Recipe Variations & Substitutions:
Mayo Substitutions
If you hate mayo, or are out, you can try sour cream, or possibly even unflavored yogurt. Because these are a little more watery, you may need to reduce or eliminate the water.
Savory Flavoring Options
I talk a little more about it in this post, but there are lots of items you can add to this if you're going for a savory option, like garlic powder, onion powder, and this seasoning that everyone absolutely loves and can't get enough of.
Personally, I add some rosemary and a little garlic powder and top with some salt and parmesan cheese as a focaccia type chaffle, one of my favorites, especially if I'm doing an Italian style meal or toppings.
Sweet Flavoring Options
As mentioned above, you can add flavorings like funnel cake, sourdough, apple pie, and I just discovered glazed donut flavoring. Mouth. is. watering.
Oooo, what about pumpkin spice for fall?? With some pumpkin pie flavoring?!?! I'm going to have to investigate these sweet chaffles more now.
You can try 5-10 drops of flavoring per recipe, depending on how strong you want it. Once I try some, I will update this post.
If you do add a bit of anything, you may need to alter the recipe drier or wetter ingredients to accommodate, but it probably won't require very much alteration at all, I found the recipe to be quite thick.
Can I Use This for All Types of Sandwiches?
Okay, I know that's a random thought to have, but my answer is, I don't see why not. I love love love peanut butter and jelly sammiches, and I tried my first chaffle with it folded in half.
Not only did the chaffle hold up really well, I really couldn't tell it was that much different from regular bread. I think PB&J is the ultimate test, as it requires spreading which tests the hold-togetherness of the bread, and is a little sweet too, so any egginess wouldn't really work.
And the ingredients in this recipe make it a very sturdy breaditem.
Get More Chaffle Information
Be sure to read this post about how to freeze, store, reheat, and for other recipe variations.
I hope you found this intriguing and helpful in your chaffle journey. Have you tried a chaffle yet? What did you think? Do you have a favorite chaffle recipe? Let me know in the comments at the bottom of the page, I LOVE to hear from readers.
As always, thanks for being here, and God bless!!
Pin for later