Note: Updated picture of current progress posted at the bottom of this post, under the Refinements section.
Today I will be letting you all up in my mouthy business (with pictures, eek), and discussing my Smile Direct Club results.  I will show you before and after progress photos, what issues I had along the way, and showing you how my teeth are now.
At the time of initially writing this, though I have completed my 6 months of my treatment plan, I am not completely done with my journey; I will get into that towards the end and will update with my continued progress.
This post may contain affiliate links, which means if you make a purchase, I may receive a small commission, at no extra cost to you. Also, this is my own experience; I am not a dental professional and if you have any concerns, you should consult a dental professional before proceeding. NOW, ON WITH THE SHOW!
My Overall Smile Direct Review
All in all, I have had a fairly smooth journey with Smile Direct Club (SDC) and am happy with how the experience turned out.  My initial plan was 6 months, which SDC purports as their standard treatment plan.
I have needed refinements after my plan, which will extend it but I don't have a lot of extra work to be done, and I will explain that further below.
Beginning Your Smile Direct Club Journey
I began my journey with a free Smile Scan at a Smile Shop near me.
My recommendation is to go to a Smile Shop if you can at all versus doing at-home impressions, as there seem to be many less complaints from results, and it's also free, decreases the waiting time, and you get free goodies with your visit.
If you haven't begun your journey yet, read this post first.
If you are ready to being your SDC journey, click here to get a $100 discount (sometimes more)! (Input your email so they can send you your own code.)
Once your scan has been received and treatment plan presented by SDC and approved by you (see link above for more info on that as well), it will take about 4 weeks to receive your aligners.  (Some people said less time, some said more.)
When you get your aligners, you will receive a nice purple box with your aligners and a few other goodies inside.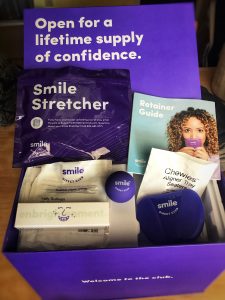 Products I Bought to Help Me Along the Way
First, I will say that a lot of my experience went so easily because I was prepared… or bought a few little items as I found that I needed them.
This stuff helped make my journey go a little smoother, particularly for when I was out.
I have included links to some in the list so you can see what products I mean, and I detail how I use a lot of them throughout this post.
Those items include:
1. Sonic Toothbrush  – this is what I recommend first and foremost for dental health overall, it really is a game changer.
I have this basic one and it does fabulously, you don't need the expensive ones!
2. Small Pencil Bag – I got a small one from the Target dollar spot to not take up a lot of space in my purse — use it to store the items below, makes it easy to take into a bathroom
3.  Travel toothbrush and toothpaste (bought as a convenient set)
4. Wisps disposable toothbrushes – to sub for toothbrush&paste in a pinch, or for a quick, discreet brush
5. Toothpick/flossers – for convenience
6. Retainer Brite – for convenience & sterilization on the go
7. Water flosser – because this is just faster and easier than regular flossing.
According to their website, a Philips Sonicare toothbrushes "removes up to 7x more plaque than a manual toothbrush…. because it makes 31,000 brush strokes per minute, compared with a manual toothbrush's 300 brush strokes per minute."
8. Aligner case. You will get one from SDC, however, I needed an extra and got these general storage cases because they don't have sharp edges (better for purse) and I can reuse them for storing other items when I don't need them for aligners any more. I did drill 3 small holes in the top for ventilation so the aligners wouldn't get nasty if I left them out for a few hours.
I've also seen these cases that can hook onto keychains and belts AND they zip! #mindblown They would have been GREAT when I was in high school/college and didn't carry a purse but did have to carry car keys and a small wallet. I'm pretty sure I would have lost a thousand less retainers if I had these back then… thank God for internet options, but it wasn't around when I was younger… PS – yes, I'm a 🦖🦕.
Check the Contents of Your Box
1. I checked all of my aligners by pulling them out of the individual bags to make sure that they were in order, as some people have said that theirs got mixed up.   Know that, if you do open your bags, you may not be entitled to a full or partial refund if you choose to return your aligners or are not happy at some point in your progress.
They will generally refund any unopened aligners. I took my chances, knowing that I would only want a correction and not a refund, and I was willing to work towards that goal and be my own advocate.
Go ahead and check all of your aligners. If you don't want to open your bags, you can try to peek through the window in your aligner package to make sure they are in order.
2. Make sure they have your name on the package, as well as the designated month and week (and that the aligners match that month/week).  I also checked to make sure they were all mine (no one else's got mixed in), and that none were broken or marred in any way.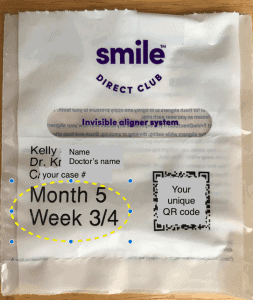 I figured I could get a jump start on requesting replacements instead of it holding up the process when I came to that set. However, mine were all in order and intact.
Read the directions that come in the box as to how to care for your aligners. I have also posted some great care instructions for both your teeth and clear aligner trays.
Treatment Plan Lengths
Most plans, including mine, with SDC use this schedule: 1/1/2.
This means that in each month, you will spend one week in one set of aligners, one week in a second set, and two weeks (week 3 & 4) in a third set. And then you will have three new sets of aligners for the next month at the same 1/1/2 week intervals.
There are some plans that are 2 weeks in every aligner, as determined by SDC.
Those two week retainers are no joke.  They are firmer and I always had trouble getting them in as easily as my other aligners, but they went in after a few minutes of trying & using my chewies.
I also had a bit of trouble getting them out, but have another great tip for that (a little further down).
Here's Some Advice On Getting Aligners To Fit
General advice is to put a new set in before bed, as your teeth will do quite a bit of adjusting during those hours.
Just maybe not the night before a big event, meeting, etc, in case you have significant pain or don't sleep well because you're worried about your aligners all night.
Oh, and you will probably have a dream that your teeth are falling out. Totally normal, most people do.
I haven't, but I had a dream for years before this that my teeth really loose, but not falling out.
If Aligners Cut Into Your Gums or Tongue
I see this question a lot, so here's a few solutions/ideas you can think about.
You can cut or file your aligners down. I have done this very sparingly, and only with ones that have really been a problem.
Don't automatically cut every set. Try it on first, let it be in your mouth for a while, even overnight.
If it's still cutting into something, you can file it VERY CAREFULLY with a nail file, cut offenders off with a pair of small nail scissors like these, or, some people use a Dremel tool to file. I have this basic Dremel set and love it and have had to use it to file some edges, but make sure you know how to use it and control it so you don't ruin your aligners.
Basically, if you file it down manually or with a Dremel, or otherwise cut it, go s-l-o-w-l-y and take your time, no rush. You don't want to file too much or otherwise cut/damage your aligner, they're approximately $99 to replace. I don't know about you, but I'd rather take my time.
Putting in a New Set of Aligners
At first, when you put in new aligners (especially for me the week 3/4), they may seem like they just won't go in.
At this point, DO NOT PANIC.  Slow down, take your time, and have confidence that your aligners will likely go in if you do it properly and have patience.
Get out your chewies (which you will get a pair with your treatment box but can get replacements if you need them), but do be careful not to swallow them (yep, some people have had it happen, though I'm not sure how.
Generally, you will be fine though and they will come out… the other end, but consult a doctor if concerned.)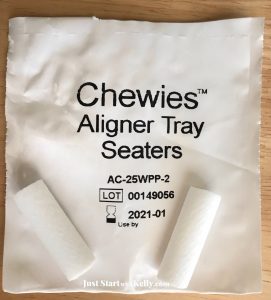 DO NOT chomp your new set together to get them to fit, you may break one or both aligners.
Get your aligners generally situated and gently close on the chewies, increasing the amount you close, getting them futher down on teeth until they sit correctly.
Another tip: Many people have success getting their aligners to fit by putting them on as much as possible before bed, and when they wake up, their aligners go all the way down on their teeth (using chewies).  You can also try that.
Get the aligners situated on one side of your teeth and then work your way around until they are generally sitting on top of your teeth.  Then use your chewies to situate each set of aligners.
It may hurt.  Beauty is pain. For me, it was a fairly temporary pain.
Getting Aligners Out
Usually, you can just use your fingernails to grip and pull the aligners out.
I tried to outtie tool that came in my welcome box once, and it was more like "ouchie" tool, it is hard plastic and easily scrapes the gums.
Certain weeks' sets would be really tight on my bottom teeth (hello, week 3/4). Now, you can try the outtie tool, however, my solution? Q-Tips!
See, a Q-tip is just soft enough on the ends to not scrape the gums but also pliable enough to grasp the bottom edge of the aligner.
(This travel set is an awesome size and the perfect size and number you'll need.)
I found a space between my teeth/gums towards the back on one side and put the Q-tip under the aligner and push up from there, moving the Q-tip forward if I couldn't pull them off. It occasionally took a bit of maneuvering to get the extra tight aligners off my teeth, but it worked like a charm!
Sounds weird, but I shared this tip in a facebook group and helped at least one person with this problem. My work here is done.. just kidding, I'm just getting started…
Will Your Teeth Hurt?
One of the first things people want to know is how much this will hurt.  I say it depends on a lot of factors, to include your pain tolerance and how much movement your teeth will require.
With my first aligner, there was very little pain.  Though some people have a good deal of pain with these, it is my personal theory that the purpose of these are to initiate you with taking care of your aligners and getting used to them.
Past that, with the rest of the journey, I had a some minor tooth pain when first started some of the aligners, but it really didn't bother me too much nor affect my daily habits a lot.
The only problem I ever had was that my teeth would be fairly sensitive for a few minutes after removing the aligners, so I couldn't quite chomp into an apple until I'd eaten something else first.
My week 3/4 aligners were always the most painful, but even then it was tolerable, especially after the first night.
Some Suggestions for Handling Tooth Pain
I think part of why I had such little pain was that I was taking Epsom salt baths regularly, which give a body more magnesium, so body parts don't tend to hurt as badly because of the extra magnesium.
I also didn't have very drastic movement that needed to be accomplished.  If you do experience tooth pain, Tylenol is generally recommended by their practitioners.
If you don't want to take Tylenol and want a more natural, safe, inexpensive, and side-effect free solution, I have taken homeopathic Hypericum perforatum 30c with success from teeth movement pain.
You could also try Arnica montana 30c.
Take pellets, wait a little while, and then take some more if you need them.
(Use a higher potency of 200c if you don't feel lasting results from the 30c.  Hypericum is generally good for nerve pain and arnica is good for tired, sore parts of the body and trauma.)
Although I never needed any of these for my SDC treatment, I did take the Hypericum when I had a retainer made years ago that gave me a good bit of pain at first, and the Hypericum worked well.
Gum Problems
As always, you should have an evaluation from your dentist before getting any outside dental treatment.
I explained my situation decades ago when I had traditional braces in this post, but basically my orthodontist recommended a gum graft to keep my gums from receding while my teeth moved with braces..
And then I did have another evaluation by an ortho a few years before getting SDC, and I get regular dental cleanings and she expressed no concern then.
All that to say, yes, I did have a slight gum issue I want you to know about, because I want to be 100% transparent with you.
I said my journey went fairly smoothly, and it did.  I did however, have one set of aligners that pushed up the gum around the tooth I wanted to move the most, as shown below.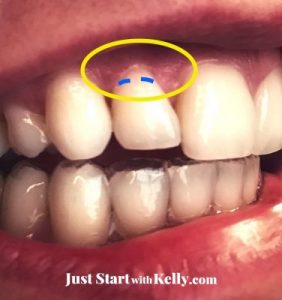 I have outlined generally where the gum was before the aligner that pushed it up. This was not painful at all, but it did change the aesthetic just a tad, but no one would know or notice unless I showed them.
It was my Month 3, Week 2 week aligners, and I should have cut that part out or filed it down, but I didn't as it was over my problem tooth and I didn't want to mess with that. 
I did on the second set of aligners that pushed that gum, though – those were the only two that did that.
It's not a huge deal nor hugely noticeable, and some gums will go back down, especially if you try to massage them frequently in that direction, some won't.
I don't know that this one will, but it was quite nice before and now not as nice, but still not hugely noticeable nor horrific.
You may also see gum movement if you are closing gaps, as that gum will have to decrease.
Also, a few people in the facebook group have reported seeing blood in their aligners occasionally.  Other users said this is generally normal, especially with a new aligner set, but you can always consult SDC or even your dentitst if it worries you.  But if it is scraping your gums or tongue, you should file it down or trim with scissors.  I detail that rocess in tis post.
Aligners and Retainers
All of my aligners but two fit essentially perfectly, and they and my retainers came within the exact amount of time.  The two sets that I had to work to get in went in after a few minutes of putting in and removing, and using my chewies.
I kept my online SDC dashboard (which you will get when you have a scan and they propose your treatment plan) updated with my start dates for each tray and adjusted as I went.
They sent me reminder emails and occasionally a text, but both were a little spotty so I used the TrayMinder app on my phone to remind me. I also adjusted the dates on it.
Here is what that app looked like. Occassionally, I would add another day in one set of aligners if I didn't reach the 22 hours/day target on a day during that week.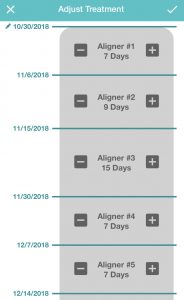 As mentioned before, my retainers came exactly in time.  They also fit like a dream, even better and closer to my teeth ridge than my last set of aligners.
Which is awesome but also a shame since I needed refinements.
My Smile Direct Club Before and After Pictures
Here is where I started:
Here are some progress pictures along the way: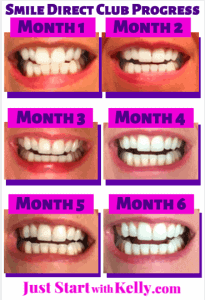 Here are my results after my initial 6 months of treatment: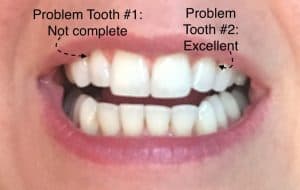 I really loved where "Problem Tooth #2" was positioned, I think it turned out really well.
But, my biggest problem tooth, #1 above, had not progressed forward as much as I would like, to even itself out with the two teeth beside it. Bummer.
This is where being part of a good Facebook (fb) group is helpful.  I learned about requesting what is called Refinements.
What If I Don't Like My Smile Direct Club Results?  Requesting Refinements
First, know that at around your 90 day mark, you should receive an email or text requesting that you go online for directions of how to do your 90 day check-in.
Basically you send pictures with your smile stretcher in so the orthodontist can make sure you're on track. If you're not, you will get what is called a mid-course correction, and may have to go back in for another scan or do more impressions.
Otherwise, please be patient on your progress!  A lot of times, you may not notice significant results until Month 4 or 5 – most people say month 4, but I noticed most at Month 5.
My SDC progress went really pretty smoothly.  However, at the end of my 6 month period, I had one tooth, my biggest problem tooth all along, that still hadn't moved out as much as I would have liked.
Basically, at the end of your journey, if your smile does not match your projected Smile Plan or you are not happy with your results, you can request refinements.
You can find further information on how to request refinements and the process I have gone through here: SDC Progress Update
But, I am so excited because my teeth are showing so much progress, as of a month into my (hopefully) last set of refinements:
I'm so excited!! #happydance
For more helpful SDC advice, please check out my other posts on:
Getting Started with Smile Direct Club: Is it Right For You? Advice & Tips
How to Care for Your Teeth and Invisiable Aligners During Treatment
Are you ready to start your Smile journey? 👇🏼👇🏼Click Here to Get Started! (my affiliate link for a $100 discount when you put in your email)
Thanks for reading and let me know in the comments if you have any questions!!