Latest Update: May 2019
Do you stare at people with beautiful smiles and perfectly straight teeth and then go look at yours and wish you had that?  I mean, who doesn't want people to fall down in amazement when we finally grace them with our gorgeous, straight-teethed smiles?
Okay, maybe a little dramatic, but if there is something that we're dissatisfied about ourselves that is somewhat easy to fix, most of us are going to at least look into it.  And lots of us will sign up.
That's exactly what I did and I am going to share with you what you should consider if you're thinking of using Smile Direct Club and how you can get started today with a $100 discount like I did! (Input your email so it can send you your code.)
I am an affiliate of Smile Direct Club and may receive a small benefit if you make a purchase at no extra cost to you.
You can see my other posts about my Smile Direct Club experience here.
Why I Started with Smile Direct Club
Two decades ago, I had braces in high school. Yes, I'm admitting to being over 40.  Which is like dog years when it comes to the ages of people who have braces (but, surprisingly, Smile Direct Club (SDC) has customers in their 60's and 70's!)
As a teenager who didn't keep up with… well, anything… I definitely couldn't be consistent enough to put my retainers in every night, much less keep up with them.
I lost so many retainers, and the last one I lost, I have no idea what happened to it, it just disappeared.  Sorry, Mom :/
In my defense, I don't ever remember any adult stressing to me that my teeth would move back and no longer be straight if I didn't protect and wear my retainers..
I understand that concept as an adult with more life experience, but as a high schooler with a brain filled up worrying about homework, sports, and boys, I didn't get it then.
I digress.  Fast forward a few years and my teeth begin to shift because I've been told I have a small mouth… to which my brother disagrees… and my teeth are extremely crowded in my mouth, even after having my wisdom teeth pulled, most of which never broke through probably because they didn't have room.
Anyway, I had the teeth on each side of my front two teeth move back, and my canine teeth move forward a bit, as below.
These SnapChat filters are probably the best for illustrating teeth positioning…
And here's one that you can see well, my one problem tooth from years earlier. I cringe at selfies, but had to capture the moment of snuggling with my precious niece. Yes, I've had different hair colors over the years.
My Own Insecurity
Generally, I wasn't too bothered by the teeth movement.  I didn't like it per se, but it never bothered me… until…. 
Until the age of selfies.  And the constant desire to take pictures of myself and family/friends wherever we were so we could remember the occasion.
So, I would open the camera app on the phone, point it at myself, and cheeeeeeseee….. uhhhgghh.  
Promptly close mouth into semi-smirk-smile. (If you've done this, you know what I'm talking about.)  Hit the button to take the picture.  Instantly feel ashamed about my crooked teeth.  #downinthedumps
Not that I don't already want to change parts about me, but this one would be a tad easier to fix and would give me an instant boost.
Now, I don't tend to go overboard worrying too much about my looks, but I do want to look decent. Some things, though, you just can't help.
I definitely don't judge a person's worth on their looks; everyone on earth is God's creation and special, no matter how their teeth, face, and body look.
Just felt the need to clarify that I absolutely realize this focuses on one subject related to personal appearances, and if it helps you and doesn't overextend your finances, it should be fine.
Deciding on Smile Direct Club
I had been thinking about getting Invisalign to straighten my teeth, but that route seemed very expensive. (At the time of writing this, approximately $5,000, which I just didn't want to spend.)
When Smile Direct Club came up, I began wondering if it was right for me.  I knew the mail order idea, with no direct supervision by an orthodontist would prove a little tricky. 
But I also noticed they didn't put the little dots on your teeth like Invisalign does, making your teeth look like it has warts.
So, I looked up reviews, and the most common problem I saw was that people had trouble getting their next months of aligners shipped to them.  That problem has been resolved as they now ship all of your treatment aligners to you in one box — very convenient.
And of course, there were some people who had problems, but nothing is perfect and I knew that in this type of situation, I would have to be my own guardian and advocate.  Can do.
Is Smile Direct Club Right For You?
First, you need to make sure of a couple of things before you decide to commit to the program.  Things like:
Can you afford the price? They do have a monthly payment program if you can't do it all at one time.  You can look up prices and get a $100 discount HERE when you input your email.
Will you commit to approximately a 6 month (give or take a few months) window of basically living in your clear aligners and taking care of them and your teeth? You will need to establish a new routine, and figure out how the constant removing, brushing & flossing, and replacing your aligners will fit into your life.
If your journey doesn't go perfectly, do you resolve to work with SDC to get the problem resolved (ie, if you lose or break your aligners, etc.)?
Do NOT let this scare or discourage you – you will figure it out, it sometimes just takes a few days or a week to see what fits best.  The key here is to be committed & diligent to the process. (I can't stress that enough.)
Has your dentist/orthodontist given you the go-ahead? You should have a dental check-up before starting this procedure to make sure your teeth and gums are healthy.  My orthodontist did an Invisalign consult a while back and said everything was fine and I could proceed, plus I have pretty good dental health and regular dental checkups, so I felt comfortable signing up.
Do you really care that much what other people think?  Some people do, and this can be an unusual adjustment for them.  It's natural to want to hide this from family and friends.  Or you can tell the world.
I don't always tell everyone my business, so I would often take my aligners out at dinners and not even bother to explain to those who I hadn't shared my little secret with.  If they wanted to know, they could ask. Or figure it out themselves.  Or just move on. Or read this post 😉
Either way, I did share it with a few people. One friend, who I hadn't seen in a while, sat down when we had coffee and said, "Did you do something to your teeth?! They look beauuuuuuuutiful!"  I knew I was on the right path.
And if you do care what others think, GOOD! More motivation to let them see your beautiful smile once you've finished your aligners.  (They probably envy your courage.)
Once You've Decided on Smile Direct Club
Congratulations!  I'm sure you've made harder decisions in your life than this, though.  This one is kind of a no-brainer.
So, once you get registered with your $100 discount (you need to input your email to get your code), you have two options for getting started:
1. Buy an impressions kit, have them shipped to your home, take the impressions, and you will ship back to them with the impression molds of your teeth, or
2. Got to a Smile Shop.  The impressions kit usually costs around $50, but the Smile Shop is FREE*!
In case you can't tell, I recommend the Smile Shop, where you will get a Free (did I mention that?!) 3D scan of your teeth and bite.
Not only is it fast, easy, and the people are very friendly, but I have seen many more complaints from customers who took their own impressions; my guess is because there is much more room for error with impressions, as they are designed to be performed by dental professionals.
Plus, you have to wait for the shipping to and from your house and the facility.  And then wait more time for your aligners to be made.
If you don't see a Smile Shop near your house, inquire about mobile Smile Shops. I've heard tales of vehicles that go from city to city doing scans. 
Some people even drive 8+ hours to their Smile Shop; I'd say it's probably worth it if you have some family or friends in the area and can make the trek.
Otherwise, be really careful taking your own impressions, and take your time doing it!
| SMILE SHOP SCAN | AT-HOME IMPRESSIONS KIT |
| --- | --- |
| Free* | Not usually free, approx $50 |
| Make appointment | Made at your convenience in your own home |
| Friendly, professional representatives to answer your questions | No in-person consultations (you still have access to SDC customer service via chat and phone) |
| High quality 3D scan of teeth | Impressions leave high potential for user error |
| Free goodies, ie, lip balm, whitening kit, etc | Varies, if any |
| Wait for aligners to be made | Wait for impressions kit shipping to & from your house, then wait for aligner-making time |
Schedule Your Smile Scan Appointment Today! (input your email for them to email you a code to get your discount)
When you get a scan, they will go through what's going to happen at your appointment, they will scan your mouth with their wand (let's just say they get all up in your mouthy business, but that's how they get the perfect scan, and it's really not much more intrusive than a dentist exam).
Then they will sit down with you and discuss payment options, how to process works, and answer any questions.
The representatives I had were very nice and professional, the one who scanned my mouth was even a licensed dental hygienist.
They made me feel at ease and answered any questions I had, ahem, a few. My appointment took about 45 minutes total, which included a little bit of waiting time before and during the appointment.
Here were the results of my 3D scan.  So cool!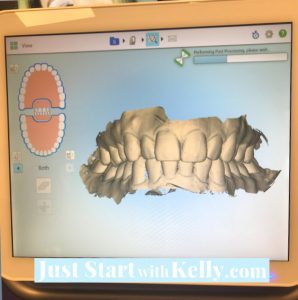 After the Scan/Impressions Submitted
A few days after your scan or receipt and processing of your impressions, you will get an email with your projected "Smile Plan".
You can choose to accept the smile plan or ask a customer service representative how to discuss changes, but make sure you do it quickly so they know whether you want to proceed.
Note: Your bite may change with SDC, and they do not typically treat bite issues, their main purposes are teeth straightening and gap-closing, so study your smile plan carefully. I began with an overbite and was ending with an overbite, so I was fine with that.
Here is my projected smile plan and the viewing options I had:
Start Your Smile Journey Today! (input your email for them to email your discount code)
Once you accept the smile plan and settle your payment details, it will take about 4 weeks for your aligners to be made and shipped to you*, but it can be more or less depending on demand, improvements, etc.
It's a difficult wait because it's exciting, but good things come to those who wait.
Advice: Don't do too much research or read too much about others' experiences, as they might scare you (because people tend to only leave bad reviews); this isn't a perfect plan for everyone, but for the discount and if you're willing to care for your aligners and teeth and work with SDC to resolve any issues, it's well worth it.
Plus, there are many stories of people who are perfectly happy with their results.
Be Your Own Advocate
Now, if your order is going much past the projected time for your aligners to be made and shipped, you should contact SDC.
For me, they have always been able to tell me exactly what is going on with my account and everything has happened exactly in the order that it was projected to do so.
Also, if you have any problems during the course of treatment, you should contact SDC and if you have any dental problems, you should contact your dentist.  Some dentists are fine with you using SDC, and some do not approve.
Whether their motive is that you're using someone else's product instead of their Invisalign or they're wary of the lack of orthodontal monitoring, either is a possibility.
I will give you one tip: One really great way to learn more about your aligners and get informal answers to questions you may have is to join a Facebook group.  (Just type "Smile Direct Club" into the FaceBook search bar and you will see several groups you can request to join.)
By reading my articles and looking at other peoples' fb posts, you will see what people recommend if your aligners rub in certain parts of your mouth, what to do if your fit seems off (sometimes it's okay, sometimes it's of concern), and what is the best way to contact SDC.
You should always default to SDC and your dentist if you have concerns, but this can help ease your mind and give you an action plan, just take all the advice (and any negative experience stories) with a grain of salt.
One Last Piece of Advice
Since this is getting lengthy, I will do a different post on how to care for your teeth and aligners while undergoing SDC treatment, as well as my own journey and how I progressed in it. But make sure you do this next piece, as part of your commitment to this process – make sure you GUARD YOUR ALIGNERS. With your life.  Or, at least with your very best intentional efforts.
Getting aligners replaced is a hassle, and delays your treatment time.  In the other post, I show you evidence of how dogs and children (and unaware adults) will take off with, destroy, or hide your aligners.
This will cost you money to have them replaced, and will lengthen the time you will need to wear them.  As my 4th grade teacher consistently reminded us, 'A word to the wise is usually sufficient.'
My next posts will be on:
My Smile Direct Club experience results, with before & after pictures
How to care for your teeth and clear aligners during treatment
I encourage you to take the leap and get started on this if you don't like your teeth.
Was this information helpful? Are there other questions you have? Let me know if you joined SDC! If you've used SDC, what did you think? I'd love to hear from you in the Comments section below!
* denotes general guidelines based on current information but your experience may vary. Start Your Smile Improvement Journey Today! (input your email for them to email you a code)
click an image to save on Pinterest